Backloggin' the Year 2020 Edition – July to September

Welcome to Backloggin' the Year, a feature that discusses the challenges and excitement that comes with working through your backlog. In this quarterly feature, Sam Wachter goes on a journey to pare down her gaming backlog. Although with 150+ games and working a full-time job, we will see how that goes.
---
Let's taking summer gaming shall we? I beat lots of games in the summer, a whole nine of them. Only four of them, however, were RPGs. I won't deny the RPG burnout I felt after #JRPGJuly, and finishing a 60+ hour game in the month. I have been playing a lot of slower paced games and it's been mentally good for me. Summer had it's ups and downs, the library continues to hustle as best it can through COVID-19. I'm hoping through this last three months that I knock out a few more RPGs because as crummy as COVID has been, games have been a great comfort food in the way that books have been for me.
I also bought more games from July to August which I am a bit disappointed in myself for, but it's still not enough to the amount I have completed. I also didn't finish Dragon Quest III in September, but once the game is completed I will be putting a vote back out on Twitter for what game I should play next. A poll will definitely be coming soon, so watch for it! I also know I am going to buy a few more games since Yakuza: Like a Dragon and Cyberpunk 2077 are coming out, along 13 Sentinels which just released and a few others. I have two week long vacations coming up as well, so I am ready to backlog!
Anywho, let's chat about the completed RPGs for the months of July, August and September. I will not be discussing Story of Seasons: Friends of Mineral Town, please read the review for my in depth thoughts.
---
Completed Games
Legend of Heroes: Trails of Cold Steel (PS Vita) – I did it! I beat everyone's favourite RPG from a few years back at 67 hours. This game just didn't hook me right away due to how slow the beginning was. After I hit Chapter 3, everything really started to click together and I found I just couldn't but this game down throughout the month of July. This was truly such an amazing experience with a great cliffhanger that for me is only beaten by Trails in the Sky FC's ending. I loved all the characters, except for Machias, who I had just the worst hate to love relationship with. I still don't love him compared to everyone else, but I am happy he did in fact grow on me. Rean is everything I love in a dopey protagonist (and I love Lloyd from Tales of Symphonia so that says a lot about me), but the true star was Elliot. Elliot is my new ride or die character in a game series and I will protect him at all costs. I cannot wait to dig into Trails of Cold Steel II soon!
Cat Quest (Switch) – This was the shortest game of the month which I completed in September, and my household affectionately called it Cat Souls, because this little game doesn't pull any punches. It has a good challenge, adorable cat puns, and overall was just such fun punishment the way a Souls game is. The second dragon was kind of a nightmare, but otherwise the game felt mostly fair over all. I am looking forward to grabbing the sequel when I catch it on sale!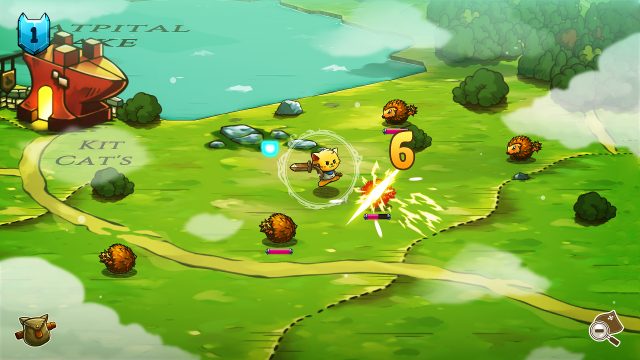 Suikoden II (PS Vita) – Those who have been around the site know I am a huge Suikoden fan, and have loved the series since I was a young girl. I have replayed Suikoden II more than ten times in my life and it still remains a favourite game that still makes me emotional to this day. On Sundays, my amazing friend Kim Wallace from Game Informer and I have been streaming a playthrough of Suikoden II on her Twitch Channel (please come watch us!) I have also written so much over the years about the series such as how Suikoden has giving me my longest running friendships, to how I participated in a play-by-email RP of the series, to running a Livejournal RP, the list goes on. The replay I did on my own was so meaningful when I was feeling lost through the pandemic, and it was the comfort food I ultimately needed. Playing the game with Kim on Sundays, reminds me how long she and I have been friends and how much the series means to the both of us and to our friendship. If you have never had the chance to play this gem of a game, filled with some of the best political intrigue out there, you owe it to yourself as an RPG fan.
---
Current Game Tally
Games Completed: 34
# of RPGs Completed: 18
# of Non-RPGs completed: 16
Currently Playing: Moon and Dragon Quest III
On Deck: Doraemon: Story of Seasons (to complete) and what you all vote for on Twitter. Check my Twitter for a poll soon.