Composer Noriyuki Iwadare Interview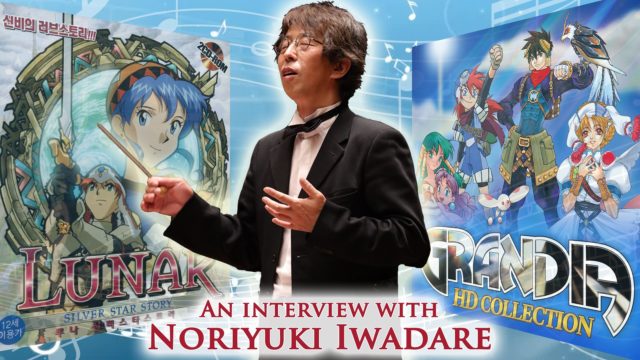 Interview translation by Elmon Dean Todd
Also available in Japanese / 日本語
Over the past thirty years, Noriyuki Iwadare has composed music for the video game industry. Starting out converting music at Sega, he has taken the reins of composition for many games since, and his most notable works include the Lunar, Grandia, and Langrisser series, and many more. Elmon Dean Todd had the opportunity for an exclusive interview with Noriyuki Iwadre about his career as a composer, along with his recent works.
---
Elmon Dean Todd: You've been composing video game music since 1990. How did you start as a video game composer?

Noriyuki Iwadare: After graduating from a music university, I joined a band, and during that time we performed many songs (mainly Western pop songs). Afterwards, I joined a company that specialised in producing video game music with the recommendation of a friend from college. The very first thing I was involved with was the conversion work for Mega Drive's version of After Burner 2. I was used to the FM sound source to a degree, but I had difficulties making the sounds because the parameters seemed different. In regards to composing, I think I started with Space Invaders 90, Wings of Wor, and Langrisser for the Mega Drive all around the same time. Actually before joining the company I composed the tracks for the first and second stages of Space Invaders: Fukkatsu no Hi for the PC Engine. At the time, they were submitted as sheet music, but I think of them as the very first compositions of my career.
EDT: Your first well-known work was Lunar: The Silver Star for the Mega Drive CD (Sega CD). Isao Mizoguchi and Hiroshi Fujioka are also on the credits for this game, along with other games you have worked on, such as Langrisser and Blue Almanac. What were their roles in relation to yours?

NI: Mizoguchi-san and Fujioka-san were employees of the same company. They were both older and had various careers, and were reliable senior co-workers. At the time, we were often involved in multiple titles simultaneously, so we made discussions as we went to decide on who was to work on which track of which game. For example, in LUNAR I have written most of the important songs such as the opening theme, but in Langrisser I composed the allies' tracks with Fujioka-san while Mizoguchi-san did the enemy tracks. So each person was in charge of tracks in their respective fields of expertise.
EDT: What are you musical influences? Who is your favourite artist/composer?

NI: Let's see, when I was a kid, I was into J-Pop from television or radio, or theme songs from anime and such. Afterwards, I took an interest in music from various genres, repeatedly listening to them. Regarding classical music, I especially like Gustav Mahler's work and have listened to Symphony No. 1 many times. I like large compositions such as Tchaikovsky (I love Symphony No. 4, 5, 6), Brahms (I like Symphony No. 2), Beethoven (Symphony No. 3, 5, 7, 9), and Mozart (Symphony No. 41).

For pop, I like the 80s and 90s-era artists like Michael Jackson, Madonna, and Prince. Quincy Jones is amazing. I'm influenced by the Beatles, of course, but I like Paul McCartney's songs — I'm impressed whenever I listen to them. I've always listened to Deep Purple, because I like rock and progressive rock bands with keyboards. I also like brass instruments, so I listen to anything where brass is playing, like Tower of Power and such.

For movie scores, it's John Williams. He's really amazing. For Japanese anime, I've listened to the songs of Hiroshi Miyagawa, who wrote the them song to Uchuu Senkan Yamato (Space Battleship Yamato / Star Blazers), many times over.
EDT: Lunar: The Silver Star on the Mega CD (Sega CD) has a different soundtrack from the Sony PlayStation's version, and even the PlayStation Portable's. Which version do you prefer?

NI: I liked the Mega Drive version, but there was a time constraint with the CD-DA format to make each song loop every 30 seconds, so I really felt I couldn't go all out. I think that recreating all the songs for the PlayStation version caused some confusion amongst users, but this was my image of the world of Lunar. However, the PlayStation version was produced using a built-in sound source, so there were many parts where I couldn't appropriately express. When making the PSP version (despite the very small budget), many musicians lent a hand without profit, so I think I finally achieved the sound I wanted. So, by all means, please listen to the PSP version!
EDT: You are well known for composing music for various Japanese role playing games such as Grandia and Lunar, but you have also been composing music for numerous dating simulation games, such as Amagami and the recently released LoveR Kiss. Is there a difference in approach or mindset in composing these particular genre of games in comparison to composing for a role playing game?

NI: I think about the music style when consulting with the staff so the composition matches the game's world. Shooting, action, simulation, RPG… I always try to create the most appropriate style, taking into account each genre, the setting in terms of time or place, age of the hero, etc. Love simulation games such as Amagami and LoveR Kiss have modern-day middle and high school students as the protagonists, so I think about songs that suit that atmosphere. The works of Ichiro Sugiyama, such as LoveR Kiss, generally have the theme of "sorrow" and "severity," so those feelings often reoccur in the songs. Anyway, change the direction of the music for each work, and make compositions that suit the work! I think this is crucial!
EDT: You were recently involved in a project called Twelve Doors, which is a piano and violin arrangement official tribute album to you. Could you tell us more about the project and your involvement?

IN: In April of 2019, I received a heartfelt message from New Zealand-based violinist Shauno Isomura: "We never know when we will live until, I may not even exist tomorrow, I may not be able to play music anymore. What I felt through the supporting activities I did for the victims of the Tohoku Japan Earthquake and Tsunami and my involvement in video game music, was the importance of 'living life to the fullest, and not feeling regrets.' With my profession in music I want to perform and introduce video game music to as many people as I could. And specifically through this album, I want to deliver the music of my most respected video game music composer, Mr. Iwadare."

I immediately responded with my deepest gratitude and started this project. With over 2,000 songs of mine to choose from, the number one difficulty was getting permission to use the songs. There were many songs we were unable get permission for, and it was tough to narrow down the appropriate number of songs anyway — so we proceeded with Shauno-san's preferences along with the songs and arrangements the listeners would surely appreciate (even if their favourite songs aren't there).

Michiru Oshima (I love the music of Full Metal Alchemist!) and many others have joined in to arrange the music. I'm very pleased the arrangements expanded upon the length of the original compositions without compromising their integrity. Ryutaro Yagi arranged the Lunar 2 battle song based on my recommendation. He's still very young, but shows a lot of promise! He expands dramatically on the track while maintaining the integrity of the original.

Then, there's a new original song. It's called "Overcome", and I started composing it around the time the Coronavirus outbreak started in Wuhan, China, so whenever I saw the situation on TV or social media, I felt the urge to write the piece with the strong feeling of 'don't give up – do your best!'

Unfortunately, I couldn't go to the recording. It couldn't be helped because it was around the time when the Coronavirus had spread throughout the world, so I was unable to listen to the live performances of violinist Shauno and pianist Benjamin. That was the only regrettable thing.

Opening all twelve doors of this album is like opening up various unique worlds enclosed within each book on a bookshelf. Please enjoy the thrill and excitement of turning the pages of this album.
EDT: Have you ever considered working on some indie games? And do you have any plans for the future that you would like to share with your fans?

IN: Last year I performed at an event in Shanghai called WEPLAY, which showcased many indie games, and on the last day, I was the presenter for the awards ceremony. So I find indie games interesting. As for composing for indie games, I would definitely love to under the condition of meeting about it in Japanese, and if I think, 'this is absolutely interesting!' when I see it.

Regarding project announcements, I cannot make any announcements now, but I do plan to release something new around 2022. Anything else will be posted on my homepage or social media, such as Twitter, so please check for updates.

Noriyki Iwadare's website: https://iwadarenoriyuki.com/
Twitter: @iwadaren
Facebook: https://www.facebook.com/iwadare

---
RPGamer and Elmon Dean would like to express our deepest thanks to Noriyuki Iwadare for taking his time to talk to us. Grandia HD Collection is currently available for Nintendo Switch, and Grandia HD Remaster is currently available on PC via Steam. Langrisser I & II Remake is now available for purchase in North America for Nintendo Switch, PlayStation 4, and PC. Twelve Doors – Tribute to Noriyuki Iwadare is available now at Wayo Records.