Adventure Corner: Takeshi & Hiroshi
Welcome to Adventure Corner, a column where members of the RPGamer staff can give their thoughts, impressions, and pseudo-reviews for various adventure titles that don't come under our usual coverage. Adventure Corner is aimed at delivering opinions on a wide range of titles including visual novels, point-and-click adventures, investigative mysteries, and so forth.
In this edition of the column we take a look at the Apple Arcade exclusive mini-RPG, Takeshi & Hiroshi.
---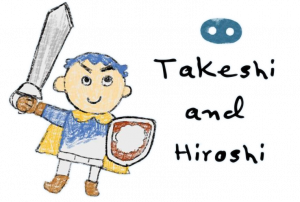 Takeshi & Hiroshi
Platform: iOS
Release Date: 11.08.2019
Publisher: Oink Games Inc.
Developer: Oink Games Inc.
Two brothers, a teen and a youngster, have formed a deep bond after the passing of their father.  One loves to create video games, and the other loves to play them.  When the younger of the two becomes hospitalized, the older must create a game that will both take his attention away from his frustrating plight and teach him some subtle life lessons.  This is the premise behind Takeshi & Hiroshi, and it turns out there's a surprisingly robust RPG hidden behind this unassuming facade.
The first thing that will strike most players is the game's two different, yet both equally stunning, art styles.  While the story told in the "real world" is done completely in high quality claymation, when younger brother Hiroshi dives into the "game world" of Mighty Warrior, the cute pixel art will make even the scariest foe seem just a little adorable.  Older brother Takeshi is trying to build up Hiroshi's confidence, which means planning five enemy waves that aren't too hard, or of equal importance, not too easy.  To further complicate getting into the zone of "challenging but not too difficult," each wave what enemies and spells Takeshi offers Hiroshi wildly varies; the same wave played four different times can have four entirely different outcomes, and that's before even considering abilities and each enemy's attack patterns.  To complete a chapter, Takeshi must meet or exceed a a certain level of enjoyment; these amounts start out fairly small but grow bigger and are therefore much more exacting to reach.
The title's story is intertwined heavily with the gameplay – older brother Takeshi is attempting to teach his younger brother how to be brave and not avoid difficult situations through in-game accomplishments and lessons, yet he himself is falling into the same traps of avoidance.  It's a sweet tale without being overly saccharine, though it does miss the opportunity to dig a little deeper into the game's funnier moments — it would have been nice to see classmate Erika's reaction to being turned into a monster for Mighty Warrior.
For those with a modicum of patience, and two or three hours to dedicate to this bite-size experience, Takeshi & Hiroshi provides a little insight into the loving bond between two siblings as well as teenage relationships in two separate graphical formats.  Just remember to keep your cool when you've accidentally bummed out Hiroshi for the fourth time in a row by accidentally killing him — the developers added a checkpoint system as of January 20th that makes repeat runs considerably more tolerable.