Metal Max Xeno to Be Reborn in Japan in March
Kadokawa Games announced that Metal Max Xeno: Reborn, its remake of Metal Max Xeno, will be released in Japan on March 26, 2020. The game will be released for PlayStation 4 and Nintendo Switch. It will have a special edition that includes a collector's box, a copy of the game, two codes for in-game items (one of which is included with standard copies as a first-print bonus), a special booklet that includes a Pochi-themed manga from Atsuji Yamamoto, and three special pins.
Metal Max Xeno: Reborn is said to be a complete revamp of the entire game. It features a brand new game engine alongside significant changes to its systems and dungeon designs. It will also include the return of series regular Pochi the battle dog. A sequel to Metal Max Xeno: Reborn, Metal Max Xeno: Reborn 2, is also in development.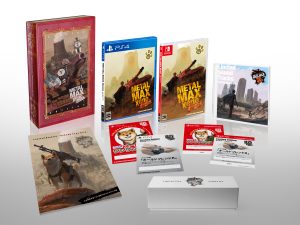 Source: Gematsu