RPGamer's Best of 2018 Awards

Though meant as a celebratory feature in nature, our 2018 Awards have to begin with some melancholy. In the time that I've been here, the RPGamer Awards have always been Mac's project and one he looked forward to every year. Last year was a difficult one for many reasons but we have managed to stick with it and are pleased that we at least managed to get the new site off the ground with his help. One thing Mac did was make sure that RPGamer would keep going even in his keenly-felt abscence and I'd personally like to take this opportunity to thank all of our readers, be it those who have stuck with us over the years or new ones that we've picked up recently, as well as all the volunteer staff here past and present. It is thanks to all of you that the site has kept going for more than twenty years and will keep going into 2019 and beyond.
This year RPGamer covered over 150 unique releases. Some of these included brand-new original games while others were fabulous re-releases of classics. It was a great showcase for all the genre can provide, ranging from huge epics to minute-long bite-size pieces of action. After taking our traditional month off, unbound by deadlines, to digest these RPGs, the RPGamer staff has voted and tallied up our Best of 2018. Please enjoy.
---
Editors' Choices
Organization and Direction by Alex Fuller
Content and Editing by Alex Fuller, Glenn Wilson
Banner by Sarah McGarr
Award Graphics by Ed Walker
---
These awards are dedicated to the memory of our friend Michael A. Cunningham. Mac started at RPGamer in 2006 and would go on to become the long-running Editor-in-Chief. While Mac loved RPGs, he especially loved handheld games, founding the #TeamHandheld hashtag as well as running a personal project site, Pocket Console, where you can read more of his musings on portable games.
You can see Michael's top games, which is to a Google Document because Mac loved organizing lists in spreadsheets, a tradition continued with our speadsheet-based awards voting form. You can also read the tributes to Michael from the community as well as a list of our favorite works by Mac as well as Francis Gayon's musical tribute based on Mac's favourite game, Final Fantasy IV. Also, a special thanks to our friends at RPGFan who dedicated their recent Top 25 Nintendo 3DS Games and Top 20 PlayStation Vita Games features to Michael's memory.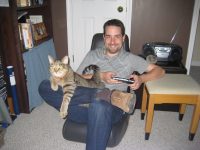 ---
Past Awards
2017 – 2016 – 2015 – 2014 – 2013 – 2012 – 2011 – 2010 – 2009 – 2008
2007 – 2006 – 2005 – 2004 – 2003 – 2002 – 2001 – 2000