Best Expansion

Xenoblade Chronicles 2: Torna ~ The Golden Country
There is some debate to be had over whether Xenoblade Chronicles 2: Torna ~ The Golden Country should be considered an expansion or its own full-fledged title, but nonetheless it is an excellent release that puts a superb wrap on Xenoblade Chronicles 2. Not only providing some fascinating backstory and history to the world of Alrest and building on some key elements of the main game, Torna provides a great tale even without those extra details. It retains everything that was loved about the main game, including its fantastic scenery, music, and narrative.
Torna doesn't rest on its laurels, however, and Monolith Soft made some neat changes to Xenoblade Chronicles 2's formula. The adjustments to the combat make for the best combat in the series so far, while other elements from the past games return, such as the affinity chart. Torna ~ The Golden Country is both a fantastic time for those who enjoyed Xenoblade Chronicles 2 and a great jumping-on point for new players wanting to test the waters a bit before diving into the full eighty-hour title.
Best Non-RPG

Super Smash Bros. Ultimate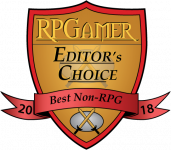 One of the biggest selling points of the new Nintendo Switch was the possibility of a new Smash Bros. game on the hybrid console, and Nintendo delivered with a massive upgrade from the Wii U version that included every champion that has appeared since the franchise arose back in the Nintendo 64 days. Add even more characters, plus forthcoming bonus downloadable champions, and Super Smash Bros. Ultimate did not disappoint. It has something for everyone, and with 74 stock characters, there's bound to be a fighter for everyone to enjoy playing.
From team battles, to handicap matches, and even an adventure mode that starts with just Kirby and makes players fight across a map to search for his fallen comrades, this game is packed with content that can be enjoyed for many playthroughs. While no RPG, this game boasts quite the cabinet of featured characters in the genre. Even if most don't consider the Zelda franchise an RPG, the cast of fighters includes characters from Fire Emblem, Mother, Pokémon, Xenoblade, Final Fantasy, and the recently-revealed was Joker from Persona 5. For competitive players or those looking for pure entertainment, Super Smash Bros. Ultimate delivers on all fronts.
Most Played

Octopath Traveler
It's not very often that Most Played and Most Completed are different games; in fact this is the first time it's happened since 2012. There's no denying that Octopath Traveler attracted great interest from RPGamers the world over and loads were looking to at least try it out. Much like Bravely Default in 2014, appealing to fans of classic JRPGs proved to be successful. However, its structure makes it one that can be a slog to complete, as players effectively have eight different stories to try and work through. With so many games coming out nowadays, getting players to stick with one for the full duration is more of a challenge. Nevertheless, there was a lot to like about Octopath Traveler, as evidenced by the fact so many of the staff picked it up.
Most Completed

Dragon Quest XI: Echoes of an Elusive Age
That left it up to the second-most-played game to swoop in to claim the Most Completed title. Much like Final Fantasy, when a series gets into the double-digits you know there are going to be lots of people ready to leap on board, especially after it has been almost two console generations since the last single-player mainline game came west. Dragon Quest XI was always going to attract lots of interest, especially with Square Enix adding elements specifically to appeal to western RPGamers, such as the addition of voice acting. There is the argument that putting its credits before what many consider to be the proper ending might have padded the numbers, but nevertheless many of the staff were more than happy to stick with the latest Dragon Quest game. Having already appeared in a number of awards, we have to see if it gets to claim the big one as well.
by Alex Fuller and Ryan Radcliff
These awards are dedicated to the memory of our friend Michael A. Cunningham. Mac started at RPGamer in 2006 and would go on to become the long-running Editor-in-Chief. While Mac loved RPGs, he especially loved handheld games, founding the #TeamHandheld hashtag as well as running a personal project site, Pocket Console, where you can read more of his musings on portable games.
You can see Michael's top games, which is to a Google Document because Mac loved organizing lists in spreadsheets, a tradition continued with our speadsheet-based awards voting form. You can also read the tributes to Michael from the community as well as a list of our favorite works by Mac as well as Francis Gayon's musical tribute based on Mac's favourite game, Final Fantasy IV. Also, a special thanks to our friends at RPGFan who dedicated their recent Top 25 Nintendo 3DS Games and Top 20 PlayStation Vita Games features to Michael's memory.