Dirge of Cerberus: Final Fantasy VII
Final Fantasy VII: Dirge of Cerberus is the 3rd spin-off of 1998's Final Fantasy VII, where you will play as Vincent Valentine.
Releases
Date:

Region:
Platform:
Publisher:
Developer:

2006-01-26

2006-08-15
Reviews
Game Content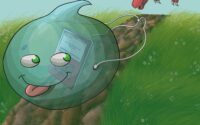 Chris really wants a giant salad in a bread bowl, Anna Marie says no to Poké-non theories. Kelley is having all the Crises because Chris won't let her read the news in peace, and Alex is quietly contemplating a Final Fantasy VII: Belt Edition while everyone argues.