Banishers: Ghosts of New Eden Launching in November
Focus Entertainment and Don't Nod announced that supernatural action RPG Banishers: Ghosts of New Eden will release on November 7, 2023. The game will be available physically and digitally on PlayStation 5 and Xbox Series X|S, as well as digitally on PC. A physical Collector's Edition is available to pre-order from Focus Entertainment's online store in Europe for €199.99, which contains:
Standard Edition copy of Banishers: Ghosts of New Eden (digital on PC, physical on PlayStation 5/Xbox Series X|S)
24cm separable statuette of Red and Antea
SteelBook case
128-page art book
Two Banishers signet rings
The Wanderer Set DLC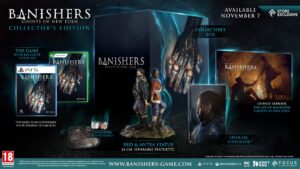 Banishers: Ghosts of New Eden is set in the fictional North American wilds of New Eden in the year 1695. It follows Antea Duarte and Red mac Raith. The pair are lovers and work as Banishers, ghost hunters protecting the living from hostile spectres. However, Antea is fatally wounded on a mission, becoming a spirit, and the pair venture in search of a way to free her. The game will contain choices that impact the story and fate of New Eden's inhabitants.