Rogue Heroes Physical Edition Orders Available This Week
Super Rare Games announced it is partnering with Team17 and Heliocentric Studios for a physical release of Rogue Heroes: Ruins of Tasos. The physical release will be available for Nintendo Switch, priced at $36.22/€34.35/£34.80. Pre-orders will begin on May 19, 2022, at 6pm BST (10am PDT/1pm EDT) through Super Rare Games' website, with only 4,000 copies to be printed. The game comes with interior artwork, a full-colour manual, an exclusive sticker, and a selection of trading cards.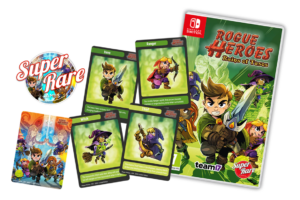 Rogue Heroes: Ruins of Tasos released for PC and Nintendo Switch in 2021. The adventure roguelite features multiplayer for up to four players and takes place in the titular world of Tasos, with players based around the village of Intori. During the game, the village is rebuilt and expanded, giving players access to more facilities and upgrades.