Gotham Knights Gameplay Shown; PS4, Xbox One Versions Cancelled
Warner Bros. Games released the first gameplay footage for open-world action RPG Gotham Knights. The thirteen-minute video is narrated by Game Director Geoff Ellenor and shows Nightwing and Red Hood in action as they take on the nefarious Court of Owls. Nightwing utilises acrobatic combat and an aerial glider, while Red Hood makes use of his twin firearm skills and powerful leaps.
Along with the gameplay video, Warner Bros. announced that the game is no longer planned for release on PlayStation 4 and Xbox One. It is still planned to release on PC, PlayStation 5, and Xbox Series X|S on October 25, 2022, with digital pre-orders available now. The game is available in a standard edition as well as a Deluxe Edition that adds the Visionary Pack DLC, which includes additional gear, cosmetic items, character skins, and more. There will also be a physical Collector's Edition that includes the Deluxe Edition content plus an augmented reality collectable pin, a sixteen-page media book, a Gotham City map, a four-character statue diorama, and more.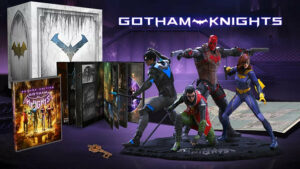 Gotham Knights takes place following the death of Batman, with players controlling Batgirl, Nightwing, Red Hood, and Robin as they attempt to step up as the new protectors of Gotham City. The group finds itself facing the machinations of the Court of Owls, a secretive group that watches Gotham City from the shadows.