Adventure Corner: Half Past Fate
Welcome to Adventure Corner, a column where members of the RPGamer staff can give their thoughts, impressions, and pseudo-reviews for various adventure titles that don't come under our usual coverage. Adventure Corner is aimed at delivering opinions on a wide range of titles including visual novels, point-and-click adventures, investigative mysteries, and so forth.
In this edition of the column we take a look at Half Past Fate on the Nintendo Switch.
---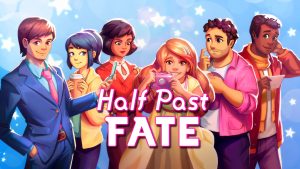 Half Past Fate
Platform: Switch (also on PC)
Release Date: 03.12.2020
Publisher: Way Down Deep
Developer: Serenity Forge
Once an obscure genre hidden away mostly in Asia, visual novels are now a well-established niche, thanks to the increasing number of otome titles being localised in recent years.  Given the surge of JRPG-style titles developed outside Japan, it's no surprise to see indie developers starting to fill out the VN genre with an increasing number of titles. Half Past Fate takes the classic romantic-comedy formula and adds a few interesting twists by having the game's numerous events jump back and forth in time, from as little as two hours to as long as eight and a half years ago.
Fate focuses largely around six characters who start out as strangers, but their past, present, and future are all intertwined with each other in surprising ways.  Rinden is one of the first characters introduced, where a woman he doesn't know accidentally spills water all over him.  Rinden is the boss of intern Ana, who meets Jaren at a tea festival and gives him her number.  Jaren promptly loses the number, and after his boss Oscar kicks him out of the store to go track her down, he runs into Milo.  Milo needs his tire changed so he can meet Bia, and both are friends with Lars.  Lars' roommate is Jodie, who is Mara's younger sister, and Mara is pitching her invention to Rinden's company…and also happens to be the woman who spilled water all over him!
Each of Fate's twelve chapters focuses on one specific event which changes how each character's relationships are developing with the rest of the cast.  Bia and Milo meet first and have maintained their friendship over many years, though the majority of the game takes place between eight days and two hours before the story catches up to the present in the final chapter.  Each chapter mixes together visual novel elements as well as minor puzzle solving; these puzzles aren't particularly challenging, but they do add a nice gameplay loop that feels different from most other visual novels.  All of these intertwining tales are told with adorable 2.5D pixel graphics, and the game's strong, bright colour palette really helps all the characters to feel unique.
Though an initial run through Half Past Fate will take players around four to five hours, there are ample reasons to revisit the game.  Once a chapter has been completed, players can choose to replay it as often as desired, and each chapter holds numerous secrets to uncover, such as plushie bunnies hiding and a guy on a cell phone who is struggling to find a dog, among other things.  Players can work towards unlocking all forty-two achievements, some of which will take advance planning.  As the game's writing is incredibly witty, revisiting each time period is no hard task.
Disclosure: This article is based on a free copy of the game provided by the publisher.