Etrian Odyssey Nexus Receives First English Trailer, First-Run Edition Announced
Atlus has released the first English trailer for the upcoming Nintendo 3DS dungeon-crawler Etrian Odyssey Nexus. The video, viewable below, gives a quick look at the various elements of the game, which will be familiar to series fans. In addition, the publisher also revealed that all pre-order and first-run physical copies of the game will come with an art book and a pin featuring the game's innkeeper Vivian.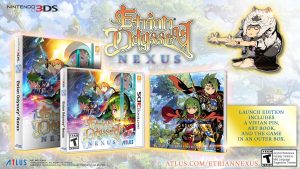 Etrian Odyssey Nexus is the sixth mainline game and the final title in the series for Nintendo 3DS, and looks to implement various systems and utilise many different classes from throughout the series' history. The game features nineteen classes, eighteen taken from previous games in the series, plus a new Hero class. The game, known as Etrian Odyssey X in Japan, will be released physically and digitally in North America and Europe exclusively on Nintendo 3DS on February 5, 2019.