Golf Story Limited Physical Edition Revealed
Limited Run Games, Fangamer, and Sidebar Games have revealed the contents of the limited physical edition for Golf Story. The limited edition will be available to order from Limited Run Games' website at 10am Eastern next Friday, September 28, 2018. The limited edition, priced at $79.99, will be joined by a regular edition. Those who purchase the limited edition will receive the following:
Physical copy of Golf Story on Nintendo Switch
7.5″ Wellworn Grove Open trophy
Tidy Park membership card
11″ x 17″ GALF poster
Golf ball and tee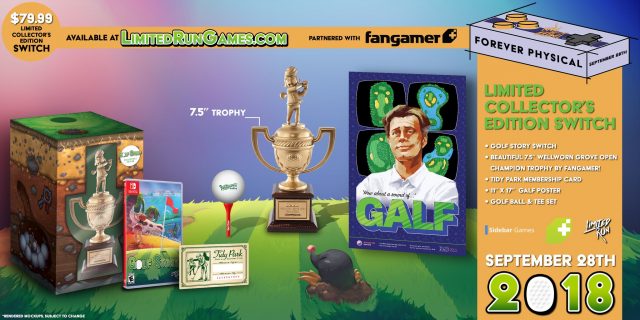 Limited Run Games also revealed that it is teaming with Spoony Bard Productions to produce a standalone NES version of GALF — a playable in-game game based on NES title Golf — on NES and Switch, the former of which will be released on a physical cart through a partnership with specialist cartridge producer Infinite NES Lives.
Golf Story was originally released digitally for Nintendo Switch in 2017. Those looking to read more about the game can check out RPGamer's review.