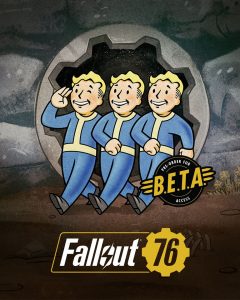 Bethesda has announced that, starting in October, it will begin selecting from among people who have pre-ordered Fallout 76 at a participating retailer to enter the game's Break-it Early Test Application (B.E.T.A.). The number of participants in the B.E.T.A. will grow the game gets closer to launch.
Fallout 76 is still changing, Bethesda added, but it will be answering questions about it coming up at their panel at QuakeCon in Dallas from August 9-12. The Q&A will be live streamed on Mixer for those not able to make it in person. Questions may be submitted via Bethesda's numerous social media channels.
Fallout 76 is set in 2102, twenty-five years after the nuclear assault that turned America into a wasteland. Players control dwellers from the titular Vault 76 in West Virginia, tasked with reclaiming and rebuilding civilization. The game is always online, with every human in the game being controlled by a player. Fallout 76 is set to be released on November 14, 2018, for PC, PlayStation 4, and Xbox One.