Sword & Fairy 6 Coming to PlayStation 4 in April
Publisher Eastasiasoft has announced that it will be releasing Taiwan-based developer Softstar Entertainment's Sword & Fairy 6 for PlayStation 4 in North America, Europe, and Asia. The game will be released in North America on April 2, 2019, with its European and Asian release following on April 3, 2019. The game will be available digitally priced at $26.99/€26.99, while a limited physical edition will be available to pre-order through Play-Asia from February 21, 2019, that contains:
Region-free physical copy of the game
Full-color printed manual
Original soundtrack CD
Individually-numbered collector's certificate
Collector's box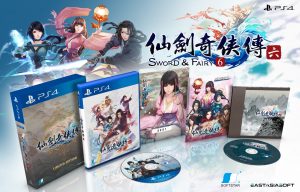 Sword & Fairy 6 is based on Chinese mythology and features a fusion of real-time and turn-based combat along with adaptive difficulty options. The game will be voiced in Mandarin Chinese with text in English, Traditional Chinese, and Simplified Chinese. Including two side entries, Sword & Fairy 6 is the eighth entry in the series, which began in 1995, and was originally released in China and Taiwan for PC in 2015.