Salt and Sanctuary's Physical Switch Edition Now Available
The physical Nintendo Switch edition of Ska Studios' Salt and Sanctuary is now available in select stores in North America. Dubbed the Drowned Tome Edition and published by Leadman Games, the edition is priced at $29.99 and contains:
Physical copy of Salt and Sanctuary on Nintendo Switch
Bandcamp download code for the game's soundtrack
Double-sided poster
20-page manual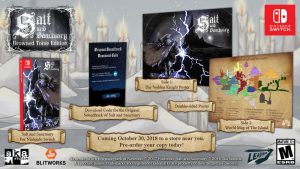 Salt and Sanctuary was originally released for PlayStation 4 in March 2016 and picked up RPGamer's Biggest Surprise award for the year. The game was also later released for PC and PlayStation Vita. Limited Run Games released a limited physical edition for the PlayStation 4 and PlayStation Vita earlier this year. Those looking to read more about the game can check out Pascal Tekaia's review of the original PlayStation 4 release.