Salt and Sanctuary Physical Switch Release Coming in October, Out Digitally Tomorrow
Ska Studios has announced that the previously-hinted physical Nintendo Switch version of its 2D Souls-inspired action RPG Salt and Sanctuary will be available in the Americas on October 30, 2018. A European date is set to be announced at a later time. The physical edition — dubbed the Drowned Tome Edition — will be released by Leadman Games through various retail stores. The edition is priced at $29.99 and contains:
Physical copy of Salt and Sanctuary on Nintendo Switch
Bandcamp download code for the game's soundtrack
Double-sided poster
20-page manual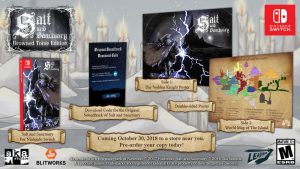 Meanwhile, the digital edition of Salt and Sanctuary is set to release on Nintendo Switch tomorrow, August 2, 2018. The game, which has been ported to Switch with the assistance of specialist developer BlitWorks, will be available on the eShop for $17.99.
Salt and Sanctuary was originally released for PlayStation 4 in March 2016 and picked up RPGamer's Biggest Surprise award for the year. The game was also later released for PC and PlayStation Vita. Limited Run Games is also set to make a physical edition available for the PlayStation 4 and PlayStation Vita on August 24, 2018. Those looking to read more about the game can check out Pascal Tekaia's review of the original PlayStation 4 release.