Potionomics
You've inherited your uncle's potion shop—and a huge debt. Better get brewing! Customize your store, hire heroes to gather ingredients, befriend (or romance) fellow vendors to learn new haggling strategies, and go head-to-head with competitors in this narrative-driven, deck-building shop simulator.
Releases
Date:

Region:
Platform:
Publisher:
Developer:

2022-10-17
Reviews
No reviews for this game
Game Content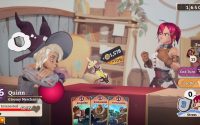 Potionomics has a release date. The management sim/deckbuilder will launch for PC next month.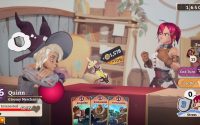 Potionomics received a new trailer for its appearance at this week's PAX East. XSEED Games and Voracious Games management sim/deckbuilder launches later this year.
Potionomics puts players in the role of Sylvia, a witch running her own potions shop. XSEED Games is teaming up with Voracious Games to release the game on PC.
Potionomics Screenshots - June 13, 2020