Frane: Dragons' Odyssey
Originally a Japanese PC game made in 2003.
First released, with some "issues", for PC in North America as The Lost Angelic Chronicles of Frane: Dragon's Odyssey by ΩTH. Later version localised and released by Kemco.
Releases
Date:

Region:
Platform:
Publisher:
Developer:

2003

11/11/2011

2012

04/05/2019

04/05/2019
Reviews
No reviews for this game
Game Content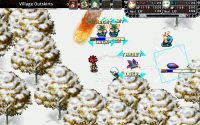 Kemco has put out some new RPG releases. The latest releases feature a couple of titles from developer EXE-Create.
Frane: Dragons' Odyssey Screenshots - April 8, 2019