Story of Seasons: A Wonderful Life Launching in June
XSEED Games and Marvelous announced that Story of Seasons: A Wonderful Life will release on June 27, 2023. The game will release for PC, PlayStation 5, Xbox Series X|S, and Nintendo Switch. Physical editions are available to pre-order from XSEED Games's online store in North America, with a standard edition priced at $49.99 and a premium edition including a 3.5" x 4" goat pocket plushie and large cloth poster priced at $59.99.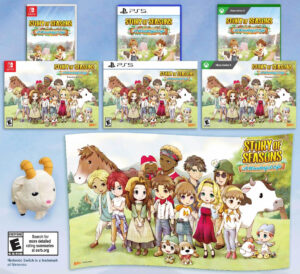 Story of Seasons: A Wonderful Life is a remaster of the title originally released for Nintendo GameCube (and later PlayStation 2) in North America as Harvest Moon: A Wonderful Life. The game takes players to the quiet community of Forgotten Valley, where they fulfill their father's dream of running a farm while potentially finding a partner and raising a child, with the remaster allowing players to romance all marriage candidates regardless of gender. The new release will also include new events, enhanced festivals, and additional crops and recipes.