Front Mission 1st: Remake Retail Release Announced
Microids announced it is producing a physical retail edition for Forever Entertainment's Front Mission 1st: Remake. Microids's limited edition will include a physical copy of the game for Nintendo Switch, an exclusive lenticular, a printed game manual, and two lithographs. It will release in Europe in spring 2023, with pre-orders now open, and in North America in summer 2023.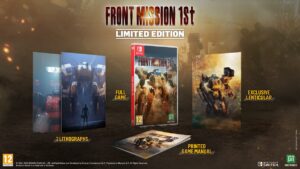 The Microids release is separate to Forever Entertainment's own physical releases. Forever Entertainment has three editions available to pre-order: a €44.99 standard edition, a €64.99 limited edition, and a €129.99 exclusive edition.
Front Mission 1st: Remake is a remake of the first entry in the tactical RPG series, which was originally released for Super Famicom in Japan in 1995. The remake released digitally for Nintendo Switch in November 2022. The series is set in an alternate future where mechas called wanzers are the primary tools of conflict. Front Mission 2: Remake is set to follow in 2023, with Forever Entertainment also working on a remake of Front Mission 3. Those looking to read more about Front Mission 1st: Remake can check out Paul Shkreli's review.