Warhammer 40,000: Rogue Trader Gets Gameplay Trailer, Collector's Edition
Owlcat Games released its first gameplay trailer for Warhammer 40,000: Rogue Trader. The new video, viewable below, is accompanied by the reveal of the game's physical Collector's Edition. The Collector's Edition is available to pre-order through Owlcat Games's website for $299 and contains:
Digital PC copy of Warhammer 40,000: Rogue Trader
Contents of the Developer's Digital Pack
8-inch/20cm Cassia Orsellio statue
Hardcover art book
Warrant of Trade
Sticker pack
Cloth banner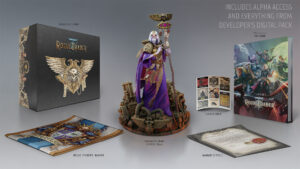 In Warhammer 40,000: Rogue Trader, players will lead a ship of personnel — alongside such party members as a Space Marine, an Aeldari Ranger, and a Sister of Battle — as they explore the dangerous Koronus Expanse, making decisions that will have ripple effects throughout the universe. Unlike Owlcat's previous Pathfinder games, Rogue Trader will only have turn-based combat. The game is currently in development for PC though a release window has not been announced.