First Tales of Luminaria Details Revealed
Bandai Namco released more details for its upcoming mobile title Tales of Luminaria. The announcements came alongside a "Tales of Luminaria Show #1″ presentation, which included the debut of a new trailer for the game.
Tales of Luminaria features a cast of twenty-one playable protagonists from three factions: the Jerle Federation, the Gildllan Empire, and an independent group of adventurers. The game is set in a world that was previously inhabited by massive "Primordial Beasts" that became petrified. The petrified beasts emit lots of mana and have become a major driving force behind civilisation. The game begins as a war breaks out between the Federation and Empire for control over the beasts. The full list of playable characters is:
Federation: Leo Fourcade, Celia Arvier, Michelle Bouquet, Lisette Regnier, Lucien Dufaure, Maxime Hasselmans, Vanessa Morax, Yelsy Tw'Elteu Huainaz'jin
Empire: August Wallenstein, Alexandra von Sonne, Bastien Forge, Laplace, Gaspard Herbet, Hugo Simon, Amelie Laurence, Falk
Adventurers: Edouard Rouquier, Lydie Delacroix, Ana-Maria Marschner, Charles, Raoul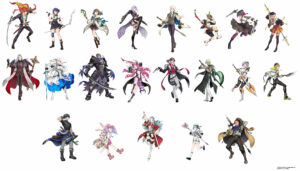 Tales of Luminaria is being developed by COLOPL and is set to be released for iOS and Android as a free-to-play title with in-app purchases. A release date has not been been announced but pre-registration is available on the Apple App Store and Google Play Store. In addition, Bandai Namco announced an animated series based on the game. The series is titled Tales of Luminaria the Fateful Crossroad and includes many of the characters in the game. It is being produced by animation studio Kamikaze Douga and will be available to stream via Funimation.
Screenshots
Tales of Luminaria "ANSWER" trailer
Tales of Luminaria animation teaser
Tales of Luminara Show #1 presentation