Persona Q2 Coming West in June
Atlus has announced that it will be releasing Persona spin-off Persona Q2: New Cinema Labyrinth in North America and Europe. The game will be released exclusively for Nintendo 3DS on June 4, 2019. The game will available digitally and in a standard physical edition for $39.99, as well as in a Showtime Premium Edition priced at $69.99 that contains:
Physical Nintendo 3DS copy of Persona Q2: New Cinema Labyrinth
5″ Korumaru plush
Art book
Four buttons, one for each of the main protagonists
Playing cards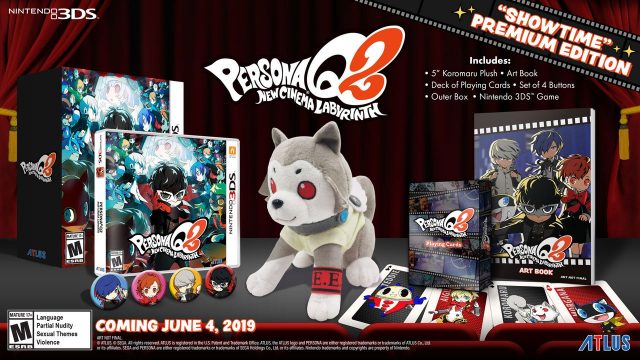 Persona Q2: New Cinema Labyrinth is a follow-up to Persona Q: Shadow of the Labyrinth, and crosses over characters from the Persona series with dungeon-crawling gameplay from Etrian Odyssey. The game sees the casts of Persona 3, Persona 4, and Persona 5, including the female main character from Persona 3 Portable joining up. The characters find themselves trapped in a cinema and must conquer multiple movie-worlds, which take the form on Etrian Odyssey-style labyrinths. Atlus has confirmed that the English release on the game will come with Japanese voice acting only.
Source: IGN