RPGamer Rings in 2021 with a Party
Starting December 31 at 3:30pm EST on our Twitch channel, RPGamer's stream team will throw a live-stream party, and everyone is invited. Featuring tactical role-playing games and roguelikes, the extravaganza will run past midnight in the contiguous United States time zones to help ring in the new year. Join Anna, Erik, and Phil as we read your comments and answer your questions during the festivities. During the final hours, expect a few surprises, including a couple of giveaways.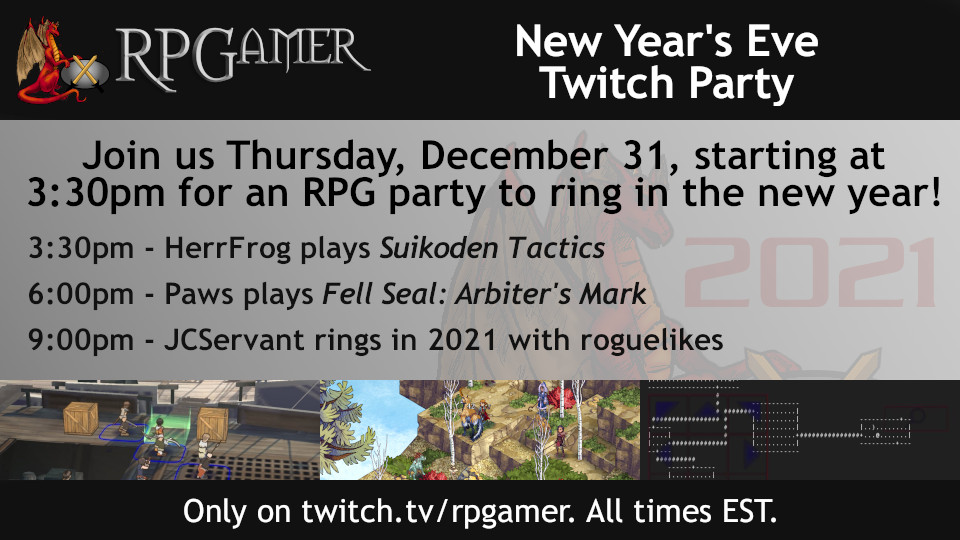 This event acts as an appetizer for RPGamer's exciting new season of Twitch content. Running from January through June, each day will have at least one streamer of the RPGamer team scheduled to take you on exciting journeys through some of your favorite games. Included in the line-up is a brand new show focusing on role-playing classics, exciting new indies, and underappreciated gems. The RPGamer Experience begins recording on Monday, January 4, and followers are encouraged to join the hosts on Twitch to contribute questions and comments about each game covered. Once recorded, RPGamer will upload the videos to its YouTube channel in a playlist for future enjoyment. Join Phil every first and third Monday at 9:00pm EST to become part of the show.