Best Non-RPG

Stray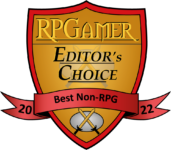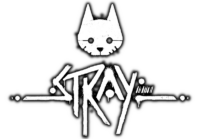 It is an understatement to say that many of the staff at RPGamer love cats. Blue Twelve Studio made the job of loving Stray all the easier by going above and beyond with the kitty's animations, control scheme, and overall cuteness. The game is a delight to play, and may even entice some non-cat lovers to give it a try. There are many fun cat-mischief moments, like getting a bag stuck on the kitty's head, hiding in boxes, or scratching on sofas. The narrative flawlessly blends these lighthearted moments with a story that will even touch a robot's heart, as the robotic citizens of the city are also charmed by the cat's antics. Each character that kitty meets wants to help them escape the city and see the surface. The robots' kindness, along with kitty's courage left me with a sense of hope and determination. This game illustrates flawlessly just what many of us love about cats. They may be mischievous, but just like the cat in this game, they'll always be there when you need them the most.
---
Most Played

Elden Ring / Pokémon Scarlet & Violet

This year's most played games are a perfect example of how diverse this year's RPG offerings really were. Elden Ring and Pokémon Scarlet & Violet really have nothing in common outside of their similar aim of being ever more accessible to more people. Elden Ring's strong co-op and summon systems open the door to those actively avoiding the brutality that the Souls series is known for, while Pokémon is, well, Pokémon. Our team got a lot of enjoyment out of both, and based on the sales figures bandied about we certainly weren't alone.
---
Most Completed

Pokémon Scarlet & Violet
There are no dark horses in this category this year, as one of the most played titles also becomes the most completed among the RPGamer staff. Though it's rarely been in full contention for the big awards, Pokémon has always had a strong following among the staff, as its formula once again satisfyingly scratches that monster-collecting and battling itch. Together, and with a nod to Pokémon Legend: Arceus for laying the groundwork, Pokémon Scarlet & Violet do a fine job in refreshing the series with their fully 3D open-world and brand new region of Paldea, and take home the largest share of game completions among our team.
---
Most Anticipated

Final Fantasy XVI

The Final Fantasy franchise introduced RPGs to a big number of gamers, and has been a permanent fixture here, so it is only natural that the release of a mainline entry gets RPGamers' hype to a brand-new level. Initially teased Final Fantasy XVI with the launch of the PlayStation 5, there was a bit of a wait before the reveal of its June 22, 2023, release date. What has been shared about the game so far is certainly promising, and the fact that the unit behind Final Fantasy XIV is leading the development of the game has added much interest. The magical world of Valisthea seems to be the ideal setting for an emotive story about brotherhood and protecting one's home from enormous creatures that bring calamity. The graphics of the game are highly impressive, especially the Eikons, and the action-based combat looks flashy and exciting. Featuring many staples of the series, such as chocobos and powerful summons including Ifrit and Ramuh, Final Fantasy XVI is an ideal opportunity for the series to get even more fans.
Of course, there's plenty of exciting titles from across the RPG-sphere coming in 2023, and so we also acknowledge some of the other titles receiving multiple votes during our awards process. The others in our top five — Baldur's Gate III, Fire Emblem Engage, Eiyuden Chronicle: Hundred Heroes, and The Legend of Zelda: Tears of the Kingdom — are sure to generate plenty of joy from players this year alongside untold others.
by Kelley Ryan, Andron Smith, Alex Fuller, and Luis Mauricio